I need to preface that these are not ranked because I could never try to be that honest with myself but here are the movies I watch around this time of year.
1. Halloweentown (1 and 2 only) (1998, 2001) 
Sorry to anyone who loves Halloweentown High or that weird off brand Halloweentown 4 but it's the classics or nothing.Marnie is not overly charming but the family dynamics (Debbie Reynolds) are sweet. There is something about the fantasy of discovering you and your family are special that never stops be appealing, plus who doesn't love a story that takes place in one night?
2. It (1990) 
Truly horrific and super long ass movie (I think it was a miniseries when it was on television). Based on Stephen King's novel and if you watch it too young it will ruin your adolescence. Also based on this clown craze going on in America and an It remake in the works now is the season to watch this horror masterpiece. Just try to remind yourself it's Tim Curry who is the clown. If you try to humanize him it can help you get back to sleep at night.
3. Beetlejuice (1988) 
So many wonderful things. Michael Keaton just never disappoints and his role as Beetlejuice is no exception. A young cynical Winona that inspired a new generation of goth kids. Back when Alec Baldwin was thin and Geena Davis was relevent. Plus Harry Belafonte's Day O scene is so iconic.
4. The Scream Franchise (minus 4) (1996) 
Wes Craven is genius! The man knew how to do horror. I know many people dismiss this as a slasher movie but it's so much more than that, he has created a universe where the audience actually cares about these characters. He lets you get invested and then it's that much more gut-wrenching when they are brutally murdered. Sidney Prescott is a pretty compelling final girl especially by the third installment.
Just watch out for Scream 4, even though it was filmed in Michigan it was still complete garbage minus some good cameos.
5. Twitches (2005) 
Whatever. Judge if you want. Yes it's the Mowry sisters but it's cute and the mythology is simple but still the themes of friendship, sisterhood, and good vs evil are not going to lose their edge (or lack thereof)  anytime soon. You can feel free to skip its sequel though.
6. Nightmare on Elm Street (The Original) (1984) 
We Craven again! One of his earlier works. Everyone knows Freddy Krueger but how many people have actually watched the 1984 classic? I feel not as much. Nancy Thompson is one the trail blazing final girls and her unconventional beauty combined with her no nonsense attitude allows the audience to be captivated by her struggle. Also Freddy is kind of a creep with some good one-liners.
7. The Book Of Life (2014) 
This movie in my opinion did not get the acclaim it deserved. More of a Dia de los Muertos than Halloween but it's still relevent and it is the way our Latino neighbors do the holiday. This movie about love and friendship and the celebration of life and death is win. It's visually stunning and the music is phenomenal. Channing Tatum as Joaquin brings some much appreciated comic relief and it's truly original.
8. Jennifer's Body (2009) 
Another underrated film in the opinion of this reporter. This one was done by Diablo Cody who brought us Juno and the dialogue is just as good in this film. It was marketed like a horror film when it's really more of a dark comedy I think that was the biggest mistake. Jennifer (Megan Fox) becomes a demon who feeds on the local boys while her best friend Needy (Amanda Seyfried) tries to figure out what happened. Megan Fox is actually really funny and Adam Brody as the villain with his sexy guyliner will give you some serious feels.
9. The Witches Of Eastwick (1987) 
An older tale from the John Updike novel about three women who accidentally summon the "perfect man" with unexplainable powers. You have Cher, Michelle Pfeiffer, and Susan Sarandon with Jack Nicholson. I feel like the plot doesn't even matter. However it's less scary and more thrilling as these women figure out their own witchcraft and lives. Also the New England coast scenes are very beautiful in this movie.
10. Frankenweenie (2012) 
Uhhh this movie is actually kind of a bummer. All filmed in black and white with our young protagonist Victor just trying to make movies and love his dog Sparky until Sparky's untimely death (don't act shocked, the movie is literally called "Frankenweenie"). This kid is so dedicated to his pet he turns to mad science to bring him back and well you know what happens to Frankenstein. This is classic Tim Burton with honestly kind of an indy feel. I loved it and you will too (mostly if you are a dog owner).
11. The Craft (1996)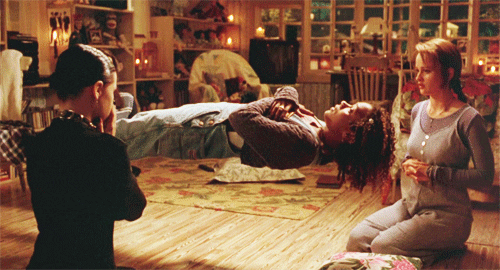 I don't know what you were doing for all of the 90's but you might have missed out if you didn't see this. A new girl blows into town and befriends what is basically a coven making their circle complete. They together practice magic and for sure get drunk with power and like change their hair and stuff. Fairuza Balk as Nancy is a stellar performance as well as the cinematography for the whole movie. The movie  is definitetly a thriller that will get you jumping.
Also Skeet Ulrich and Neve Campbell star in this film together right before they do the Scream movies.
12. Double Double Toil and Trouble (1993) 
Wayyyy better than twitches. Old school MK&A know how to do Halloween. This is one their movies where them being twins isn't just a cute gimmick so they can have matching boyfriends in Paris/London/Rome but rather about what it means to be a twin. Cloris Leachman (who apparently has been in her 80s since the 90's) plays their diabolic witch of a great-aunt who is trying to destroy her "good twin" while the girls try to save her. There is a little person and an older black guy that will ignite a small fire with the lack of political correctness just to warn you.
13. New Nightmare (1994) 
So ahead of its time this film. Heather Langenkamp who played Nancy in the original film plays herself as the actress 10 years after the original film. This time "Heather" is being stalked by Freddy and learning he isn't just in her films. The whole thing was so creative and beautifully played I would've loved to have seen Wes Craven repeat this concept with Scream 4. It's meta before meta was a thing and also Freddy is still a hardcore perv.
14. Coraline (2009) 
Be careful what you wish for. Based on the children's novel by Neil Gaiman and Laika Studio's first feature film it does not disappoint. Coraline is the story of a neglected only child who finds a parallel world where everything is more enjoyable and weirdly everyone has buttons for eyes. She begins to explore this new world and starts to wonder what's being offered to her and what the cost will be. The movie is visually very stunning and we can all look past Dakota Fanning who plays Coraline attempt to do a Michigan accent.
15. Practical Magic (1998)
Now this is a weird Halloween/Rom-com mix but still good nonetheless. Sandra Bullock and Nicole Kidman play sisters (which is super not believable) who are witches and their family is cursed and tragedy strikes anytime a woman in their family loves a man. You can see the Rom-Com BS, right? The movie setting in New England is nice and the relationship between the sisters is charming and even the guy for Sandra Bullock isn't the worst.
16. Cabin In The Woods (2012)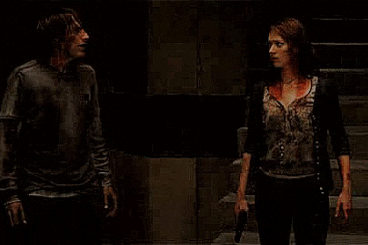 I love Joss Whedon and he is my role model. This was a dark comedy movie he wrote that basically tears at the fabric of the entire horror genre.The movie takes five college aged kids and puts them in a cabin for the weekend and you know how that horror movie plays out. Or do  you? Let Joss show you what's up.  It's scary enough to be a Halloween movie but also funny enough to help you get through the gore.
17. Corpse Bride (2005) 
A classic Tim Burton film about unrequited love set in Victorian Europe. The movie is kind of slow and sweet compared to his other films but there is murder and skeletons so it's dope for Halloween .
18. Carrie (1976) 
Stephen King strikes again! This original movie has terrified me since my youth and I was way too young when I first saw it (my parents might not have paid enough attention to what I was watching). A young girl with dormant telekinetic powers goes pretty much apeshit when mean/attractive popular kids set her up to think she is the Prom Queen only to drop pigs blood on her during her crowning. She basically destroys everyone with her unleashed powers. It's basically the first story of a school shooting and a bullied kid. Her home life with her evangelical and maybe schizophrenic mother are very hard to watch but Sissy Spacek's grave face of horror is forever engrained in my mind.
Just to mix it up! Some other good Halloween things to watch.
Pretty Little Liars: Halloween Episodes
Pretty Little Liars does a lot of things wrong but Halloween isn't one of them. Usually airing between their seasons A and B it's usually a juicy episode. The First Secret gets a particularly nice shout out from me. The whole thing is set in a flashback on Halloween which is great for a mystery show. Offered Seasons 2,3, and 4.
Community: Halloween Episodes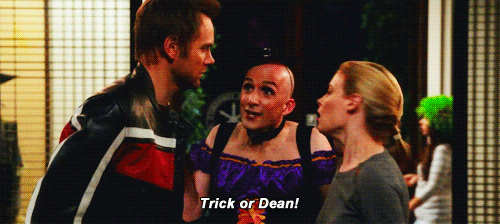 Obviously I will taken any opportunity to talk about Community. However Community deserves recognition for its Halloween episodes. My favorite will always be the zombie apocalypse episode in season 2. Offered seasons 2-4
Sabrina The Teenage Witch: Halloween Episodes
Remember the iconic river of candy corn episode or even season three's creepy "Molly Dolly" episode for Halloween? If not it's time to hop on Hulu and watch her Halloween episodes. Offered Seasons 1-6
The Simpsons: Treehouse of Horrors
We all know The Simpsons no matter how irrelevant they become hold the gold medal on Halloween specials. Offered all seasons (except the first)!
Buffy The Vampire Slayer: Halloween Episodes
Buffy is built for Halloween and they have several good Halloween episodes. However season 2's episode "Halloween" is perhaps the best of the bunch. All the kids get turned into what they dress up as and as Buffy becomes a Victorian lady. This allows us to see Willow step into the hero role for a change. Offered seasons 2,4,and 6.
And Obviously….
19. Hocus Pocus (1993) 
You don't love America if you don't watch Hocus Pocus every Halloween. It's as simple as that. You see that's SJP/Carrie Bradshaw dancing up there, right?  If you haven't watched, quit whatever you're doing and go watch before you continue reading this blog or any printed word for that matter.
20. The Nightmare Before Christmas (1993)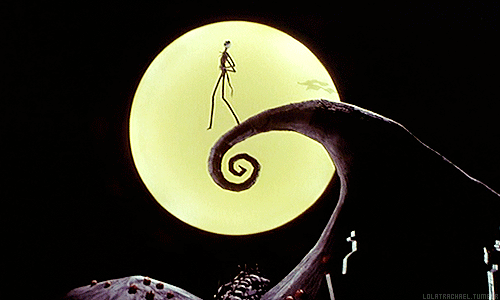 Probably my number one for the season. It's great because you can watch it for Christmas or Halloween. The music is probably one of my favorite parts and yes the whole movie has some weird emo connotation now but I'm not going to give it up because it got trendy. Still a fantastic film about two holidays and what it means to find yourself. That gif alone still has me smiling!
So these are my favorite things to watch around Halloween. I know there are several more films as well television specials but these are my choices. I hope you enjoyed!