So this is my first segment of "Rob Reviews" hoping to make that more of a thing. Today's topic is  Ryan Murphy's shows. Here is the thing; Ryan Murphy shows are all the same (American Horror Story, Glee, The New Normal, Popular, Nip/Tuck) and elicit the same emotion from me; intrigue and extreme dissatisfaction.
He has a formula that I've been aware of since AHS: Coven. The formula isn't terrible, it's what gotten him such a successful career but Scream Queens is making it evident that he has gotten lazier. He loves to have a strong female lead, he loves flashy outfits, he loves quippy insults and most of all; a couple HBICs (Head Bitch In Charge for those of you not in the know, no judgement I wasn't sure if it was head or hot bitch).
AHS: Jessica Lange and Emma Roberts and now Lady Gaga
Glee: Santana Lopez and Sue Sylvester
The New Normal: Nene Leaks and Ellen Barkin
Popular:  Nicole Julian (more obscure I admit)
Scream Queens: Emma Roberts and Jamie Lee Curtis and let's be real most of those girls are trying to be HBIC (I see you Abigail Breslin, you've come a long way since Nim's Island).
Do not get me wrong, all of these women are entertaining! They have delivered some of TV's best one liners. These HBICs usually have their straight laced conventional woman or "straight woman" to balance them out.
AHS: Connie Britton, Tessa Farminga, and Sarah Paulson.
Glee: Rachel Berry, Marley Rose, and Emma Pillsbury
The New Normal: Georgia King
Popular: Lily Esposito-Ford, Sam McPherson, and Carmen Ferrara.
Scream Queens: Skylar Samuels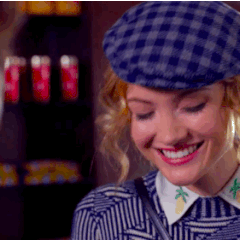 The main issue with these shows is the lack of plot or continuity. Ryan Murphy is kind of the king of slight of hand. He just distracts you so don't really notice that a story isn't really moving along and his main distractions are the HBIC women (and admittedly very good wardrobes). Most of the endings are abrupt and thrown together quickly and are littered with continuity issues (heavy nod to AHS: Coven).
Scream Queens is no exception to these accusations. This show is classic Ryan Murphy and he really isn't even trying this time. You've got a well dressed Emma Roberts spouting out provocative insults to everyone around her and Jamie Lee Curtis looking chic as hell being just as sassy. You have her minions Chanel 2, 3 and 5 (a la early Brittany and Santana to Quinn Fabray).  The show is decently ripe with homo eroticism with Chad Rockwell and Nick Jonas's character which is another common Murphy move (Quinn/Santana, AHS's rubber suit, AHS's Dandy, Emma Roberts/Tessa Farminga, and all of Nip/Tuck).
Oh and there is a murderer in red devil costume on campus, and where most of the kids are concerned with their personal popularity versus oh I don't know transferring!
If you really talk to a person about his shows you learn that aren't that well liked, the conversations go as following:
AHS Fan: I really like American Horror Story! It's so twisted!
Me: Oh really? What's your favorite season?
AHS Fan: Umm I really liked 1 except the ending was kind of dumb, season 2 had too much going on, season 3 was good but admittedly silly, I liked the start of season 4 but I didn't finish it yet. Season 5 premiere was amazing though!
Me: So really what this boils down to is you didn't like most of it?
And then there is a Glee Fan
Glee Fan: Oh yeah! I loved Glee!
Me: It was a really good show, the ending felt a little dissatisfying to me though.
Glee Fan: Oh, I really only watched the first season and then the music wasn't as good and everyone became gay.
Me: So you didn't really even watch most of it?
Of course some die hard Ryan Murphy fan will try to tell you about his HBO film The Normal Heart which won an Emmy and Golden Globe. However let's not forget that The Normal Heart was first a play which was not written by Ryan Murphy just adapted to a film by him.
And now he has the OJ Simpson show which I'm going to be completely honest I haven't watched yet. (Not watched because of some protest but because I'm poor and don't have FX) My sources tell me that this show is some of his better work but like The Normal Heart the OJ Simpson trial is a story that is already written. The plot is already written for him which is something in his favor. Now we can watch Selma Blair play Kris Jenner in her cutest 90's outfits and she can be as snappy as she likes and he doesn't have to figure out where it's going to go. (I also hear Ross is killing it as Robert Kardashian)
Don't get me wrong  I will continue to watch Ryan Murphy programming. He is not some acclaimed writer in my opinion but he is funny, represents the LGBT community, and he gets some good people to star in his shows. As I reread this, it's coming as more of a roast than a review but this is just one guy's opinion. I can't wait to see Dakota Fanning wearing a tiara and throwing shade at Tilda Swinton in a 60's dramady about a mother and ghost daughter solving crimes or whatever concoction he has brewing.
Until the next one
Rob Dine